When I saw all your posts with posters, screencaps and happy feelings about the new Taiwanese drama "Summer Desire", my fate was sealed. It has been a while since I watched a Taiwanese drama (the last one was "My Queen") and I
really
liked the look of this one.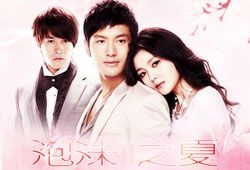 But! The first 5 minutes of the drama, and we get to hear the main herouine's voiceover: "But because of me, hatred ran deep between the two. ..Perhaps I am inauspicious . I made them unhappy…" Please tell me I am not hearing what I am hearing, because what I am heating is "It is my fault they are fighting.. I am unlucky. I made them unhappy". What sort of misogynist, "women are the reason men turn to bad things", drivel is this????? I will give the drama a bit of credit and try to ignore the introduction for now, but I will be on my guard.
Male leads:
- I don't mind Peter Ho as Ou Chen so much. He is no Adonis, but providing he angsts a bit more in every episode I think I can learn to like him. There is intensity in him that I find very appealing.
- On the other hand, Huang Xiao Ming as Luo Xi looked fine in screencaps but in motion he has a weird slightly sleazy smile. AND he wears pink cardigans.
PS: Cinderella's sister : the end : I am so so happy!
There was an angsty deep in the middle of the drama, but overall it was a very much feel-good drama of spring. It told quite an unusual story (take me right, I love romance as much as any other person, but some interesting family relationships were an additional bonus), it had good script, amazing settings and excellent actors. My ratings: 7/10