For some reason, I seem to continue to be off my favourite drug, namely Korean drama. No matter what Korean drama I try recently , I can't shake that "I have seen this all befoooooooooore!" feeling. I am also watching a number of Western shows, (with various degrees of enjoyment). Surprisingly, I am beginning to really LIKE the USA version of "Being Human". It is as simple as this: The original UK two-part pilot was Gothy, but the UK "Being Human" itself turned into a version of "East Enders" with supernatural characters. Now, the USA version of "Being Human"is back to being quite Gothy and heart-breaking, and add to this Sam Witwer's good looks. I am not obsessing or anything, but this show has a great potential.
Also, I am back to my Anime Love. Among anime I enjoyed this winter were
"Blood of the Reprimanded Hound"
and
"Shiki"
. "Shiki" is an absolute gem, a vampire story but with depth, realism and scary factor I have never expected to find in anime. I LOVED it. I missed a chance to post about Shiki, but I think better later than never : Any fans of anime and any fans of vampire finction, watch "Shiki". It is fantabulous.
"Blood of the Reprimanded Hound" is based on a computer game, and this shows. It is about young guys fighting to death in a fantasy city so that they can be crowed as the King of the Game or Il-re, with drugs, male bonds and all such things. I was in a mood to watch a weird anime with young guys killing each other, so I enjoyed "Blood of reprimanded hound" quite a bit, especially the art. This is not an anime you can watch with your 11-year old, though, but the same goes for "Shiki".
Yesterday I started "Ergo Proxy" and this anime is definitely something I am going to love. I have only watched 2 episodes, but the anime already mentioned great philosophers and sent me a "Beauty and the Beast" vibe. And besides, the art is gorgeous, unusual and gloomy: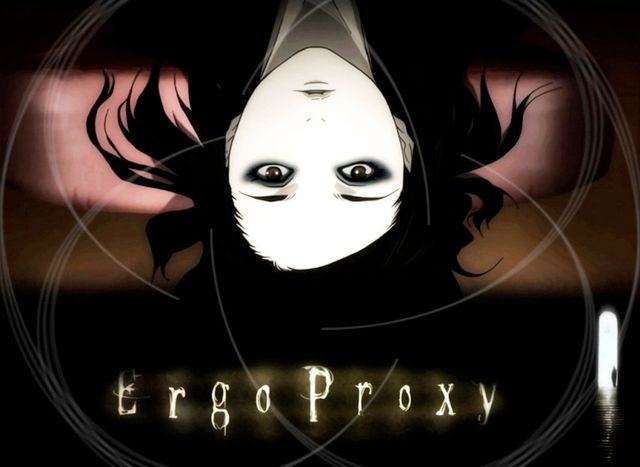 ( More Ergo Proxy art )
The only sad thing is, the anime is only 23 episodes long, so it won't last too long. My anime-knowledgeable friends! Can you recommend anything
like
"Ergo proxy" (more the merrier)??????? Please????????